I am so bummed. I went last summer and had a fantastic time and dreamed about going back ever since. I didn't get notified by the Dorothy Parker Society that it was happening. Sigh. I'll have to figure out another way to traipse around dressed like a flapper. I have to say I dig the Jazz Age revival scene way more than I dig the steampunk scene. The Jazz Age is so much more fresh, so less infiltrated by unfortunately dressed goths. Also steampunk just seems so
tired
to me as of late. It really hit me how much I prefer fake speakeasies to fake tea parties when I saw the pictures from this year's Governor's Island party on The Sartorialist. Yesterday I was still pretty gung-ho about steampunk but seeing the pictures of the most fun I had dressing up switched something in my brain. I wanted to be there so
bad
this year. I guess I can relive the memories of last year and hope I don't miss next year. I had a bomb outfit planned too.
Here are two pictures of me from last year's party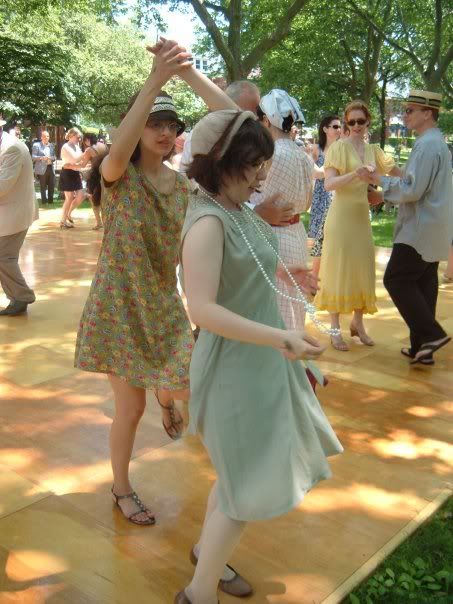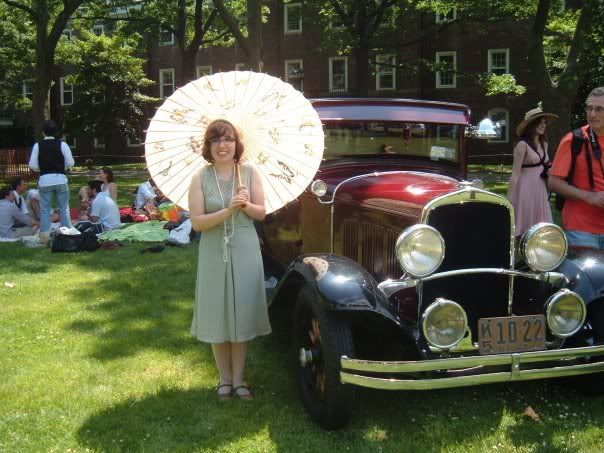 Excuse the fact that I look fat in both of them.
You can see pictures from this year's event here http://thesartorialist.blogspot.com/ just do a little scrolling. In the archives there should pictures of last years event. I am not in any of them but they're all gorgeous.